Welded Mesh
---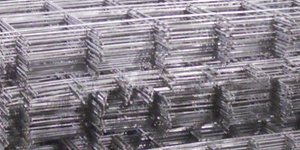 Reinforcing Fabrics
Reomart Pty Ltd manufactures a 500mpa steel reinforcing mesh suitable for use in a variety of applications including:
Concrete footpaths
Industrial and commercial ground slabs
Precast Panel construction
Residential slabs and footings

Standard reinforcing mesh sizes are 6.0m x 2.4m.
The trench mesh products all come 6.0m long with a variety of standard widths from 200mm to 400mm
The wire used in our reinforcing mesh has a ribbed profile. This ribbed profile improves bonding to concrete, which when compared to smooth wire profiles, minimizes any concrete cracking that may occur as a result of concrete shrinkage.
SQUARE RIB MESH
| REFERENCE | STANDARD UNIT | MAINWIRE mm | EDGE WIRE mm | CROSS WIRE mm | MASS kg |
| --- | --- | --- | --- | --- | --- |
| RM81 | Sheet | 7.60@100 | 7.60@100 | 7.60@100 | |
| RM102 | Sheet | 9.50@200 | 6.75@100 | 9.50@200 | |
| RM92 | Sheet | 8.55@200 | 6.00@100 | 8.55@200 | |
| RM82 | Sheet | 7.60@200 | 6.00@100 | 7.60@200 | |
| RM72 | Sheet | 6.75@200 | 4.75@100 | 6.75@200 | |
| RM62 | Sheet | 6.00@200 | 4.75@100 | 6.00@200 | |
| RM52 | Sheet | 4.75@200 | 4.00@100 | 4.75@200 | |
| REFERENCE | STANDARD UNIT | MAIN WIRE mm | CROSS WIRE mm | MASS kg |
| --- | --- | --- | --- | --- |
| RM1218 | Sheet | 11.90@100 | 7.6@200 | |
| RM1118 | Sheet | 10.65@100 | 7.6@200 | |
| RM1018 | Sheet | 9.50@100 | 7.6@200 | |
| RM918 | Sheet | 8.55@100 | 7.6@200 | |
| RM818 | Sheet | 7.60@100 | 7.6@200 | |
| RM718 | Sheet | 6.75@100 | 7.6@200 | |
Square & Rectangular Rib Mesh sheet size 6metre x 2.4 metres (14.4 square metres)
Cut & Bent Mesh will incur an additional charge – Price On Application
TRENCH RIB MESH
| REFERENCE | MAIN WIRE mm | CROSS WIRE mm | WIDTH metres | LENGTH metres | MASS kg |
| --- | --- | --- | --- | --- | --- |
| F8TM200 | 7.60@100 | 4.00@300 | 0.2 | 6 | |
| F8TM300 | 7.60@100 | 4.00@300 | 0.3 | 6 | |
| F8TM400 | 7.60@100 | 4.00@300 | 0.4 | 6 | |
| F11TM200 | 10.65@100 | 4.75@300 | 0.2 | 6 | |
| F11TM300 | 10.65@100 | 4.75@300 | 0.3 | 6 | |
| F11TM400 | 10.65@100 | 4.75@300 | 0.4 | 6 | |
| F12TM200 | 11.90@100 | 4.75@300 | 0.2 | 6 | |
| F12TM300 | 11.90@100 | 4.75@300 | 0.3 | 6 | |
| F12TM400 | 11.90@100 | 4.75@300 | 0.4 | 6 | |
Please be aware, some products attract lead time for delivery
---